If you're ready to get started at the Habitat Store as a volunteer, it's easy! 
Visit the 'Sign Up Now' button above which takes you to http://cvillehabitat.volunteerhub.com  
Click on an orientation time that works for you. 
You'll be asked to create a Volunteer Hub account. 
Adults, you'll sign our waiver electronically. Minors (12 and up), you'll print, and bring along the adult-signed waiver to orientation. You can also find a copy of the Minor Waiver HERE 
That's it!  You'll come to orientation, which lasts about an hour, and afterwards, you'll be able to sign up for shifts as you wish using the Volunteer Hub site, so make sure to bookmark it. Questions? Email the Store's Volunteer Coordinator at storevolunteer@cvillehabitat.org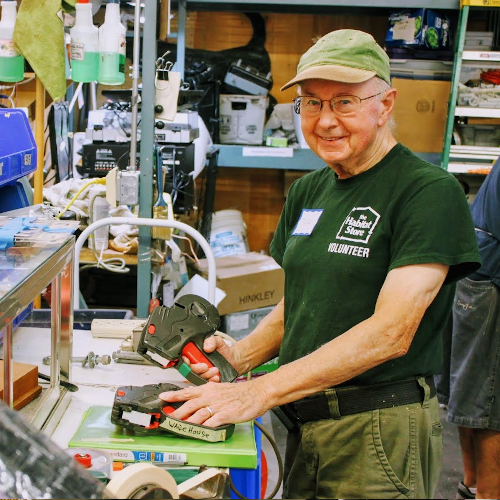 Wondering what you'll do as a Store Volunteer? 
Donations Processing
We're always on the lookout for people to help us process everything that isn't furniture. Tools, electronics, lighting fixtures, rugs and more have to be researched, priced, and put out on the floor. Do you love to sort, search, and organize? This might be a perfect fit for you.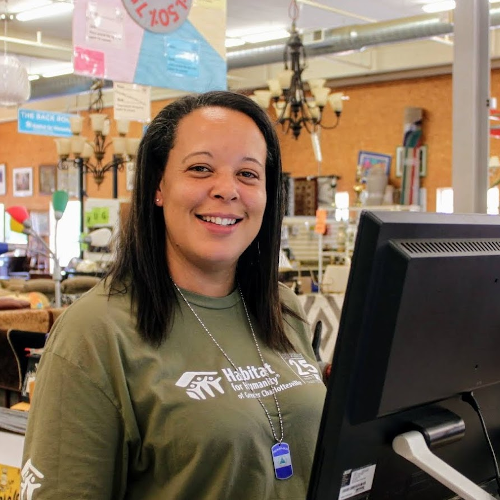 Register
Of all of the places where we need strong customer service, patience, and kindness, the Register tops the list. You'll be the last person a customer interacts with in the Store, and you'll have an opportunity to leave a lasting positive impression of Habitat in Charlottesville. You'll greet customers, answer the phones, explain store policies, communicate with staff/volunteers/customers/donors, maintain the top floor, and ring up purchases. While not a highly technical position, use of computers is required.
Data entry and social media
We generate a lot of data about volunteers, customers, donors, sales, and other aspects of retail work. It's often created on paper sheets or forms, but in order to make it truly useful, it has to be entered, corrected, researched, double checked and confirmed. We also have several social media outlets, online sales spaces, and digital communications platforms that need to be updated. If you are strong in the ways of data, graphic design, video, photography, storytelling, and other creative digital arts, we could use your help.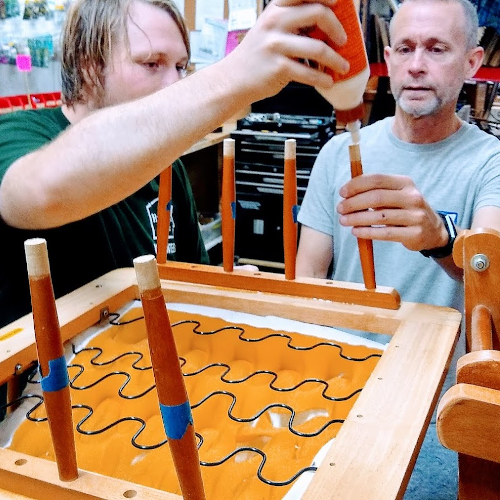 Warehouse
We often wonder here at the Store why anyone would pay for a fitness club membership when you can come and help us in the Warehouse for free. You can get a full body workout in a single shift here, and help to solve the needs of Affordable Housing at the same time. The Warehouse crew is responsible for moving, lifting, and carrying-out furniture to customer vehicles, unloading donations, and rearranging merchandise on the floor. If you're looking for a good way to build your body and help your neighbors, there are few better ways. Lifting of 50 pounds or more is required for this position.
Workshop
The Workshop is a special place in the Store, seldom seen by shoppers. Donated pieces that need repair, assembly, refinishing, upcycling, or recycling often go there to be worked on by our volunteers. If you are creative, precise, like puzzles, or love using tools to build, this is the place for you. Our key directive is to keep material out of landfills, improve what is good, preserve what is great, and make magic out of the mundane. Join us!
Sales Floor Support
Float volunteers are those who see customer service as their primary goal, and appreciate independence. Float volunteers provide direct customer service by asking customers if they can be helped, greeting and thanking them all the while. Float volunteers are our cleaning crew, safety supervisors, and welcome party. You'll sweep, mop, and vacuum the floor. You'll keep dust and grime off of our donated furniture and other items. You'll help with alerting the store staff to gaps in the merchandise on the floor. You'll help our customers to find what they came in for and answer any phone calls. You'll represent Habitat, and share our mission and goals with our customers. If this sounds like fun, please join us!
If you're ready to start your volunteer adventure at the Store, click the "Sign Up Now" button at the top of this page, and click on any upcoming Orientation. If you have questions for the Habitat Store Volunteer Coordinator, use the form below, or email storevolunteer@cvillehabitat.org. Prefer the phone? Call 434-293-6331 EXT 4. 
Would you rather volunteer on a Habitat build site in Charlottesville? Click here.