Ready to volunteer at the Habitat Store? Follow the steps below!
Click the "Sign Up Now" button below.

Select an orientation time that works for you. 

You will be asked to create a Volunteer Hub account. 

For adults, you can sign our waiver electronically. For minors, you can print and bring the adult-signed waiver to orientation. You can also find a copy of the Minor Waiver HERE. 
That's it! Orientation will take place at the Habitat Store and will last about an hour. Once you complete your orientation, you will be able to sign up for volunteer shifts using Volunteer Hub, so make sure you bookmark that website! 

Questions? Email the Habitat Store's Volunteer Coordinator at storevolunteer@cvillehabitat.org.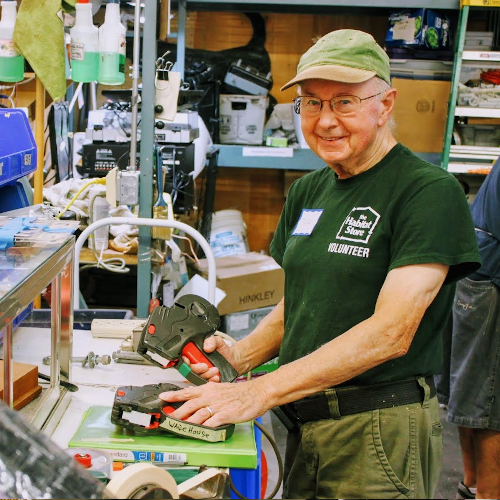 Wondering what you will do as a Store Volunteer? 
Donations Processing
We are always looking for knowledgeable volunteers to help us process everything that isn't furniture. Tools, electronics, lighting fixtures, building materials, and MUCH more have to be researched, priced, and put out on the floor. Do you love sorting, organizing, and helping our donors and customers? This might be a perfect fit for you!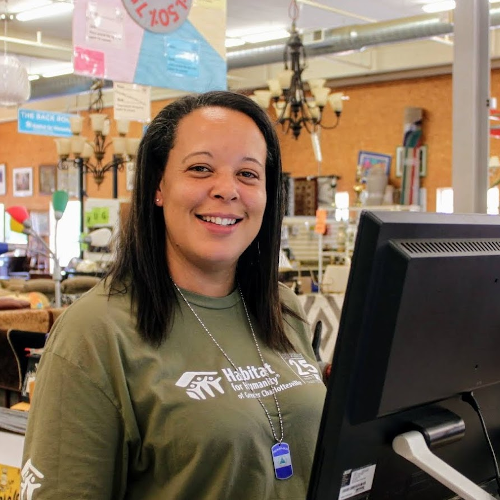 Register
Out of all the places where we need strong customer service, patience, and kindness, the register tops the list. You will get to interact closely with customers, and have the opportunity to leave a lasting, positive impression of Habitat for Humanity. You will ring up customers, greet customers, explain store policies, as well as communicate with various staff members, volunteers, and donors. Use of a computer is required, though our system is very user-friendly and easy to learn. Do you enjoy interacting with people? This might be a great fit for you!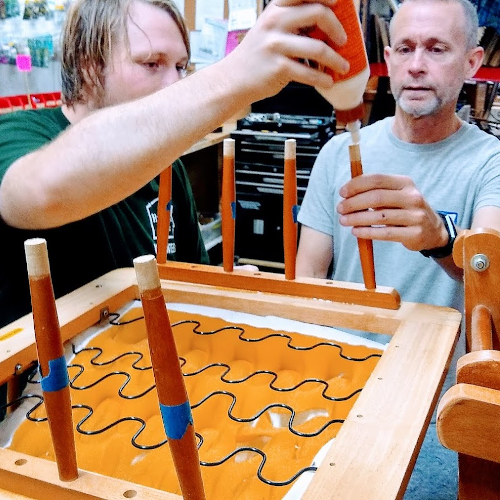 Warehouse
Further supporting our customers and staff is the Warehouse crew. The Warehouse crew is responsible for moving, lifting, and transporting furniture to customer vehicles, unloading donations, and rearranging merchandise on the floor. Being able to lift 50lbs or more is required for this position, although we make use of many dollies to make this work as light and safe as possible. 
Workshop
The Workshop is a special, completely volunteer-run space in the Habitat Store – rarely seen by shoppers! Donated pieces that need repair, assembly, refinishing, upcycling, or recycling often go there to be addressed by our volunteers. If you are creative, precise, enjoy puzzles, or love using tools to build, this is the place for you. Our key directive is to keep material out of landfills, improve what is good, preserve what is great, and make magic out of the mundane. Are you a handy or creative person, or want to learn these skills? Join us at the Workshop! 
Sales Floor Support
Sales floor volunteers are primarily responsible for making the sales floor as welcome as possible by displaying our products, providing customer service, and helping to keep the sales floor stocked. You will help design our displays, clean and organize when possible, work closely with sales floor staff, and provide information to customers. Do you have a knack for sales or want to learn more about our dynamic sales floor? This would be a great opportunity for you! 
If you are ready to start your volunteer adventure at the Habitat Store, click the "Sign Up Now" button at the top of this page and follow the instructions above! If you have questions for the Habitat Store Volunteer Coordinator, use the form below or email storevolunteer@cvillehabitat.org. Prefer to call us? Call 434-293-6331.
Would you rather volunteer on a build site in Charlottesville? Click HERE.